COVID-19 Update from Sunnyside Gifts & Doorstep Delivery in Hillsborough Area, New Jersey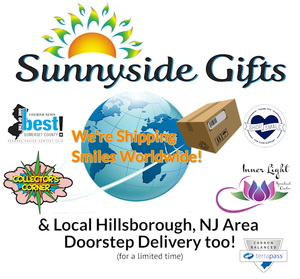 Dear Friends,
Thank you so much for supporting our small family-owned and operated indie gift shop in Hillsborough. We are happy that so many of you have come in to soak in the good vibes and we welcome those who haven't yet shopped with us to check us out online or in the shop.
At this time we are open regular hours (11AM-8PM Mon-Fri; 10AM-6PM Sat; 10AM-3PM Sun) with 24/7 shopping online at www.sunnyside.gifts. However, if the NJ Department of Health or Hillsborough Township mandate closure we will provide an additional update announcement.
Our hearts go out to all who have been affected by this unprecedented event and we are grateful for the healthcare workers, local communities, and governments around the world who are on the front line working to contain COVID-19.
Given the recommendations by the NJ Department of Health and Hillsborough Township and in closely monitoring the coronavirus situation we are taking this opportunity to provide an update from us at Sunnyside Gifts.
Similar to other businesses, we have increased sanitizing in the shop and have provided our wonderful Sunnyside employees with the CDC recommendations. Additionally we have asked all of the teachers, readers, facilitators, and practitioners who hold classes, circles, and groups in our nook to please transition the events to online for the time being with an indefinite timeline depending on Township mitigation recommendations before restarting in-person in the Nook.
Since opening our doors we have offered free local pick-up if you order online at www.sunnyside.gifts and pick up in person, but for a limited time we are adding FREE local doorstop delivery. Shop our collections online now.
Order online at www.sunnyside.gifts, select local delivery at check-out, and your gifts will be delivered to your doorstep within 24-48 hrs. Delivery within Hillsborough and limited to a 10-mile surrounding radius only please.
We hope that during this uncertain time this helps those who are limiting travel to public places, families whose schedule has changed due to the schools closing for the next 2-4 weeks and may be balancing more than normal, and anyone who needs gifts delivered quickly (within 24-48 hours) in the local area.
Let us know if they are gift deliveries and we'll include a gift bag, tissue paper, and gift message for free!
Thank you so much again for supporting our small business. More than ever, this is a time to support and to be good to each other. We hope that you are safe, well, and as in a quote attributed to Hellen Keller, "keep your face always towards the sunshine, and the shadows will fall behind you."
From Sunnyside with love,
Shannon & Dave
Sunnyside Gifts is located in the Triangle Center (near Wawa) at 381 Triangle Rd and Hwy 206. We are a Hillsborough family  "mom and pop" indie gift shop filled with awesome gifts, good vibes, positivity, and fun! Shop happy at www.sunnyside.gifts.
Leave a comment
Comments will be approved before showing up.