Flying Wish Paper Gifts ~ New at Sunnyside!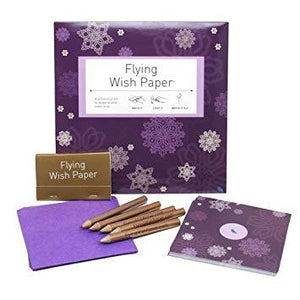 Take a deep breath, make a wish (or say a prayer, ask for help, send a blessing, write a mantra, and more), and let it go! Our new collection of gifts from Flying Wish Paper are perfect for any occasion.
How to use Flying Wish Paper:
1. Write It, Focus on your wish as you roll the paper into a tight ball the size of a marble
2. Gently unwrap and flatten out the paper, then reshape it into a tube. Use the circle on the Wish Platform as a size guide
3. Light it, Stand the tube vertical on the Wish platform and touch a match to the top edge. Don't blow out the match in the direction of the tube. If it topples, it's easy to move your Flying Wish Paper back to the platform, but be quick!
4. Let It Fly, The paper and your wish are consumed in a beautiful blue flame. At the last moment, watch as your wish magically lifts off the platform and rises to the heavens!
And just a quick reminder to make sure to prevent fire or personal injury when lighting the wish paper (or anything!) on fire.
Leave a comment
Comments will be approved before showing up.