Shop with intention & share in the joy ~ New Global Fair Trade Collections at Sunnyside!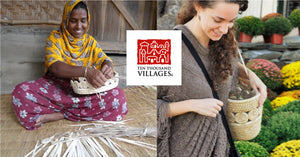 We've supported ethically sourced handcrafted gifts by global artisans since founding Sunnyside Gifts in 2015, and we're thrilled to announce that not only are we continuing to expand our collections of fair trade global handcrafted gifts (clothing, jewelry, and more!) but we're now officially an Alliance store of Ten Thousand Villages - one of only 2 in New Jersey!

So what does change at Sunnyside Gifts? We get to expand our offerings of Ten Thousand Villages gifts online and in our Hillsborough location. We are still completely independent (a true "mom and pop" shop you can feel good about supporting) and are not owned or operated by Ten Thousand Villages, but we do get to be listed on their website as an Alliance store (meaning, we carry Ten Thousand Villages gifts for purchase)! Yay!
Shop our expanded collections
of global fair trade gifts:
Leave a comment
Comments will be approved before showing up.