Teachers Rock! Celebrate National Teacher Appreciation Week @Sunnyside Gifts!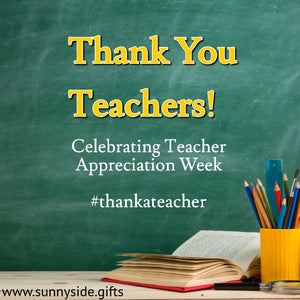 We are celebrating National Teacher Appreciation week
(#thankateacher #inspiringNJteachers) and especially thank our dedicated teachers of Hillsborough School District (HSD) for all they do every day. HSD teachers are welcome to stop by Sunnyside Gifts (381 Triangle Rd, near Wawa) any day between now and Friday at 8PM for a gift of thanks.
We didn't forget about all of the rest of the awesome teachers around the United States! Between now and May 11, teachers are welcome to use coupon code TEACHERSROCK at www.sunnyside.gifts for 10% off an entire purchase plus we'll send a free gift!
Thank you all for your patience, encouragement, motivation, (and more patience) every day in the classroom. You rock!
Leave a comment
Comments will be approved before showing up.