Trivia Fun Day at Sunnyside Gifts to benefit Steps Together!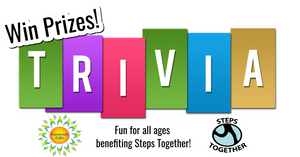 Get your trivia fun on at Sunnyside Gifts and win prizes too! Mark your calendar for March 7 and come on over to Sunnyside Gifts anytime between 10:00 AM and 6:00 PM for awesome trivia fun for all ages benefiting Steps Together!
Choose from one of popular categories like Sports, Pop Culture, Disney, and more. No need to brush up on obscure scientific discoveries or little known historic events of the 1700's---there won't be any questions on those! We'll even have a special selection of trivia for kids.
Test your trivia knowledge to win awesome prizes (including select Pop! Funko collectibles, super cute plush animals, gift cards, and more!)  
During this fundraising event, we'll be collecting donations for Steps Together, a Hillsborough based 501(c)(3) dedicated to inspiring the community to pay their blessings forward and support families facing a medical crisis. Even better, a percentage of the day's sales at Sunnyside will be donated directly to Steps Together too! Shop Happy and have fun for a great cause!
Sunnyside Gifts is located in the Triangle Center (near Wawa) at 381 Triangle Rd and Hwy 206. We are a Hillsborough family  "mom and pop" indie gift shop filled with awesome gifts, good vibes, positivity, and fun! Shop happy at www.sunnyside.gifts.
Leave a comment
Comments will be approved before showing up.